One key to success during the 2013 Saints season is the youth on the roster. These guys are our new hope. Every week this season we're going to talk about the young guy we think made the biggest impact. Today, that guy is Kenny Stills.


[dropcap2 variation="slategrey" textColor="#000000″]W[/dropcap2]e've been so excited about the strong play of all those young players on the Saints' defense that we've started to forget that the next generation of the Saints' offense is already producing too.
Be Stills My Heart
The Patriots effectively eliminated the Saints' primary offensive weapons. We know all about what Aqib Talib did to Jimmy Graham, but the impact of Marques Colston and Darren Sproles was pretty limited too.
Enter Kenny Stills, the Oklahoma rookie who has constantly threatened to break out without ever actually doing so. We can't really consider his three catch performance against New England a breakout, either, but his spectacular almost-game winning touchdown in the fourth quarter shows that Stills has indeed become an important part of the machine.
The thing about Kenny Stills is he seems to have wide-ranging receiver abilities that could make him the heir apparent to Colston as the primary not-Jimmy wide receiver/tight end in the Saints offense. He's fast; he has decent size; he has good hands; he runs nice routes. He seems to do a lot of the little things right.
Take another look at his should-have-saved-us touchdown. There are lots of skills on display here. The obvious one is the speed necessary for Stills to get behind the defense in a rather limited space. Another is the move he uses to get inside the initial defensive back before bending back outside to make the catch. He also shows a mastery of the subtle art of separation, giving himself a better chance at the football than the pair of defensive backs covering him.
Kenny Stills' rapid development–other than Colston, what rookie has made an impact at the difficult wide receiver spot in Sean Payton's sensory-overload schemes?–has him positioned to step up immediately, rather than at some indeterminate time.
We're pretty sure we haven't seen his 2013 best yet.
PS
This picture exists.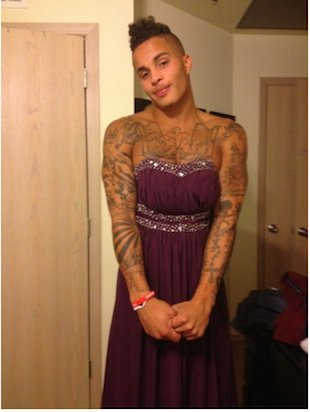 (via)
And Kenny Stills is pretty okay with that fact.
Yes obviously that's me in a dress. No I didn't lose a bet. I thought it was funny and I do stuff like that all the time. Kanye shrug

— Kenny Stills (@KSTiLLS) October 16, 2013